Standard-ISO 23328 Breathing System Filters for Anaesthetic and Respiratory Use
Views:0 Author:Scince Purge Publish Time: 2021-12-23 Origin:Site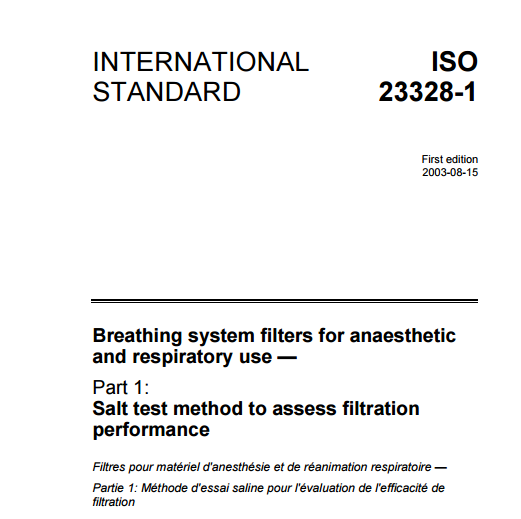 ISO 23328-1:2008 Breathing System Filters for Anaesthetic and Respiratory Use- Part 1: Salt-test method to assess filtration performance
This part of ISO 23328 gives a method of test for assessing the filtration performance of breathing system filters (BSF).
In the test, the BSF is challenged with sodium chloride particles of the most penetrating size range, 0.1~0.3μm.
Apparatus
Flowmeter, with an accuracy of ±5% of the actual value to be measured,
Sodium chloride aerosol generator, capable of generating an aerosol at (25±5)℃ and relative humidity of (30±10)% with a concentration between 10mg/m3 and 20mg/m3 which has been neutralized to the Boltzmann equilibrium state.
Scanning mobility particle sizer, or equivalent instrument.
Suitable forward-light-scattering photometer, or equivalent instrument.
Flowrates for testing BSF
Paediatric: 15L/min
Adult: 30L/min
If you have relevant testing requirements, we recommend our SC-FT-1406D-Plus Automatic Filter Tester to you.
Flowrate: 0~99.9 L/min
Pressure gauge: 0~125Pa, 0~500Pa or customized
Test aerosol: NaCl and paraffin oil
Accuracy of flowmeter: 2.5%
Accuracy of pressure gauge: 1%